Product details

XCS Enterprise Integration Console

The XCS eiConsole is a graphical Integrated Development Environment created for the express purpose of developing, deploying, managing, and maintaining interfaces. The XCS eiConsole offers the fastest, surest, most cost effective way to manage dozens or even hundreds of interfaces an order of magnitude easier.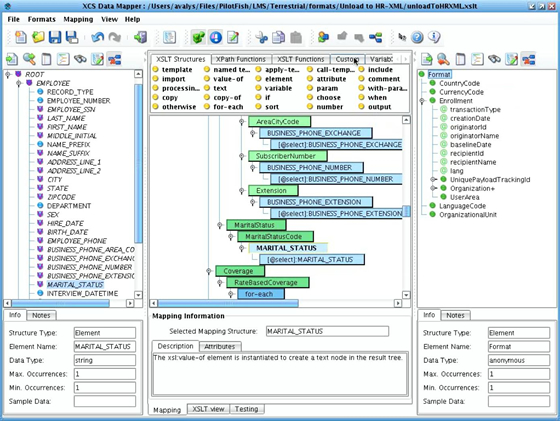 The "assembly line" approach used by the XCS eiConsole to configure interfaces allows you to interface any system(s) or service(s) to any other system(s) or service(s) regardless of platform, operating system, database, or communications protocol. Whether implementing a simple point-to-point interface or a comprehensive SOA, experience accumulated from hundreds of implementations has proven that any interface can be organized into logical stages to support the connectivity, transformation, and delivery of information. These stages include:
* The Listener - to connect to the Source system(s) or service(s).
* The Transformer - to transform information from its proprietary format to a common format.
* The Router - to direct the information to its intended Target(s).
* Another Transformer - to transform the information from its common format to the format acceptable to the Target(s).
* The Transport - to connect to the Target system(s) or service(s).
The XCS eiConsole is the developer's complement to the XCS eiPlatform. The stages comprising each interface are configured in the XCS eiConsole, tested end-to-end, and then deployed to the XCS eiPlatform Java framework at the click of a mouse for runtime processing.
The XCS eiConsole delivers exceptional value to business and technical professionals alike. The "power user" can use the "point, click, drag, and drop" visual interface to quickly build and deploy interfaces without requiring expertise in Java, XML, XSLT, or other enabling technologies. At the same time, technology experts will want to use the XCS eiConsole because it is a much faster way to create end-to-end interfaces without requiring the tedious hand-coding.
Release Details
This is a major release candidate that includes PilotFish Interface Exchange (PIE) functionality. With this release, commercial licensees can share (upload and download) interfaces and interface components via the PIE. Evaluation licensees can download interfaces and interface components from the PIE, but cannot share or upload interfaces and components to the PIE.