Product details

eiPortal for Healthcare

With PilotFish's eiPortal for Healthcare, processes for onboarding data exchange partners that were once manual are replaced by a fully automated test facility. Customers can download everything they need to build interfaces to your system. They can submit, test and validate their messages prior to going live with the interface. The Portal, powered by PilotFish's proven eiPlatform engine is configured to meet your system's exact interface requirements. It is fully automated to provide unattended responses to testing customer or trading partner messages.
Any organization that offers a standard set of interfaces, file formats, or web services for consumption by many other organizations or customers can reap tremendous benefits from the eiPortal. Organizations that can benefit include:
A medical group's Health Information Exchange (HIE) that mediates the transmission of electronic medical records between providers.
A laboratory accepting orders for medical tests from their customers, and providing standardized order status and results.
A cloud-based software provider enabling standard integration into or out of their software offerings.
A medical device or equipment manufacturer who wants to offer their customers interfaces in and out of their systems and self-service integration.
In each of these cases, a standard file format, web service, or interface is offered by a single organization and consumed by many others. In the past, the implementation of each and every data exhange partner has required tremendous time, effort, and coordination. Through the implementation of the eiPortal, the service provider can replace one-on-one hand-holding with efficient, automated processes that benefit both them and their customer.
The eiPortal incorporates all of these features and benefits:
Emailing of specification documents is replaced with an online repository.
Desk-checking of data payloads is replaced with automated validation.
Mock-up of sample result payloads is replaced with automated service simulation.
Manual troubleshooting by support staff is replaced with a customer self-service log of messages.
The eiPortal is customized with your logo and branding, and is configured to the exact specifications for interoperating with your system. Your overburdened IT staff can be freed up from the time consuming process of getting customers up and online. Additional features and benefits include:
An online repository provides access to everything they need to build an interface to your system - interface templates, documentation, implementation guides and sample data and contact information.
24/7 availability of feedback to your trading partners, without communication delays.
Simulated responses (synchronous and asynchronous) to inbound messages, without human intervention or full test environments.
An intuitive, rich web-based GUI for message submission, tracking, validation and review.
Verbose, actionable error messages that tell your trading partner how to fix the problem – not just that one occurred.
Trading partner-specific profile management for security and self-service outbound communication configuration.
Robust features that provide high visibility and flexibility for administrators.
The eiPortal's intuitive interface allows customers to quickly navigate through the eiPortal. The Documentation tab provides access to an organization's interface templates, documentation, implementation guides, sample data and contacts – everything at hand for integrating with your system. Help screens make it easy to navigate through the eiPortal and Tutorials provide detailed how-to instructions for every step along the way.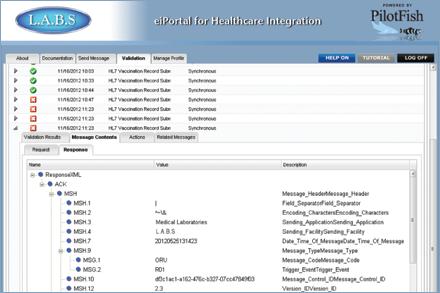 On the eiPortal, your trading partner locates their submitted messages in the "Validation" tab, which is a filterable/sortable list of everything they have sent. Messages with a green checkmark have passed validation rules or defined tests. Messages with a red "X" have failed. A message can be expanded to review its contents and specific validation errors.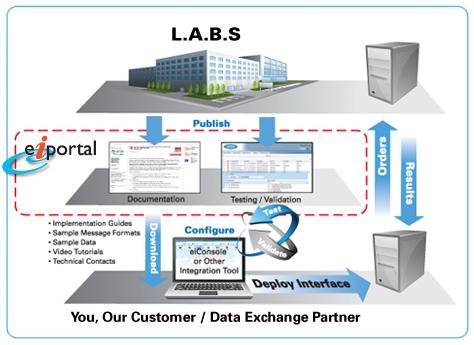 By using the eiPortal, highly coordinated work between an organization and its customers is limited to truly implementation-unique discussions.